Food: to me, Lucienne's cooking spells love. If only her husband thought so too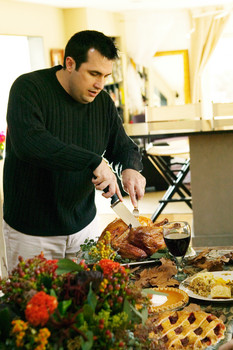 Lucienne, having spotted me driving to market, rang to invite me to a pre-Easter dinner. She and Gaston don't go to church any more because the priest's sermons are long and boring. Instead, Lucienne's heretical Mass involved her as pagan celebrant cooking up a "simple" supper.
[ILLUSTRATION OMITTED]
She let me help her cook; the menu expanded to include her favourite dishes. She had made a gateau de Savoie (plain sponge cake) that morning, so we prepared iles flottantes to accompany it. Seven eggs, new-laid by the hens in the yard, were separated. I whisked the whites while Lucienne heated a quart of full-cream milk. We poached spoonfuls of egg white in the milk, then put them on a plate in the fridge to cool. Next we made the creme anglaise. After beating the yolks with sugar, we added a tiny spoonful of maizena to stop the mixture curdling, mixed the eggs into the milk, stirred the cream until it thickened and left it cooling in the sink.
As an aperitif I had pastis. They had Suze, one of those herby liquids I hate. Lucienne produced her walnut liqueur and insisted I try it. Potent stuff. Gaston refused--he disapproved of having two aperitifs. Lucienne served the first course, which was foie gras she had made herself from ducks donated by her sister-in-law. Gaston made tsk-tsk noises over the yellow fat surrounding the mousse of livers. Oh, I don't care, I love le gras, Lucienne said, undaunted. She caught my eye and smiled. They are Jack Sprat and his wife: she is plump and he is thin. Gaston praised the bread, pain au levain, which he himself had bought in town from the only decent baker, who still uses proper flour, kneads his dough and doesn't fob you off with heated-up frozen rubbish. He criticised the tinned peaches, heated in butter, which accompanied the foie gras: you shouldn't mix sweet with savoury. Lucienne does like to experiment.
Then Gaston was cross because there wasn't enough Sauternes to go round and no more bottles in the cave, and you absolutely must drink sweet white wine with foie gras. He opened a bottle of Bordeaux to accompany the next course, slices of magret de canard from those same ducks, which we ate with chestnuts also fried in butter. Oh well, Lucienne said: we can always diet tomorrow. Next we had home-made white cheese. Gaston called for sugar, while Lucienne had hers with bread and butter.
Finally we had the piece de resistance: the islands of egg white floating on their pale yellow ocean, edged by cliffs of golden cake. Too sweet, Gaston pronounced. I admired his nerve. It's one thing to want a man to be interested in what he eats, but quite another to receive so many negative comments. To me, Lucienne's food spelled love. How kind she was. To grumpy Gaston, too: he gets ticked off only in private.